Recently I bought the Sennheiser RS 175 RF to take my at home entertainment to the next level.
Sale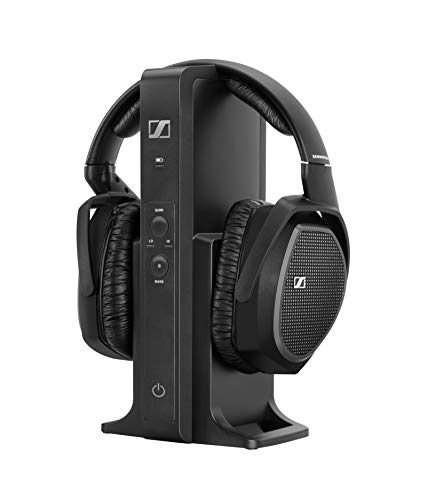 They offer an incredible range of features which allows me to enjoy music and television Like never before!
In this Sennheiser RS175 review, I will share all the ins and outs of this headset.
So, without further ado, let's begin.
Sennheiser RS-175-RF Review: In Details
Before buying a wireless RF headphone, you need to know its sound quality, specification, pros and cons, wireless range, unique features, durability, and many more.
In this write-up, I will describe every piece of information regarding this headset.
Lets take a quick glance at the Sennheiser 175.
At A Glance
Closed-back headphone with excellent digital wireless audio transmission.
Dynamic bass and surround sound listening modes.
Multi-purpose transmitter.
Two rechargeable batteries.
Intelligently designed controls.
Excellent frequency response.
2-year warranty.
After ordering this headset, I was eagerly waiting to get the delivery. And when it finally came to my doorstep, I was super excited to open the box like a kid.
Now you are curious to know what I got from the box. Right?
Here I am, revealing it now.
In The Box
In different compartments of the box, I found the below items:
Sennheiser RS 175 Headphone.
Audio cable with 3.5mm jack plugs (2m).
Optical cable (1.5m).
TR 175 transmitter.
Power supply with four adapters (EU, UK, US, AU).
2 Rechargeable battery.
User Manual.
It's time to know about Sennheiser RS 175 key specifications with pros and cons.
Key Specifications
Headphone type: Over-Ear.
Connection type: Wireless.
Wireless range: Up to 100m.
Color: Black.
Weight: 10.9 ounces.
Microphone: No.
Operating time: Up to 18 hours.
Dimension: 9.3 x 5.9 x 11.6 ounces.
Charging time of batteries: Up to 8 hours 30 minutes.
Battery life: Up to 18 hours (on use).
Frequency response: 17 Hz to 22 kHz.
Max. Sound pressure level: 114 dB at 1kHz, 3% THD.
Carrier frequency: 2.40 to 2.48 GHz.
RF output power: max. 10 dBm.
Magnetic field strength: 2.7 mT.
Pros
Comfortable earpads.
Excellent bass feature.
Multiple connectivity options.
Strong connection even through walls.
Cons
Not portable (only for home use).
No Bluetooth option.
At high volume, deep bass can deform.
Not suitable for glass users.
While purchasing headphones, I always look for comfortability.
Do you want to know if Sennheiser's RS 175 wireless headphone has satisfied me in this regard?
Let's find out.
Are They Comfortable to Wear?
I was amazed when I put the headphones on!
The soft and fluffy cushion feels comfy to wear.
The ear cups are spacious enough to cover up my ears.
Though it fits me well, I can't use them for long hours!
Because I feel pressure around my ear after using them for an extended time, sometimes my ears hurt and feel numb too.
There is a chance of hearing loss if you use headphones for long hours.
So, if you are someone who needs to wear headphones for a long time, then Sennheiser RS-175 is not a good choice for you.
Besides comfortability, sound quality is another essential part of any headphones.
I am disclosing it in the below section.
Sound Profile
Sennheiser RS-175 RF has outstanding sound quality.
This headphone has a bass boost & surround sound listening mode, which helps you hear the depth of the audio.
The dialogue of movies sounds crisp and clear with this headset.
It provides a livelier and dimensional sound that gives you a home theatre feel. It also has a good treble and decent mid-range.
However,  the audio can distort a little with high volume.
Overall I am pleased with the sound quality.
Frequency Response
This headphone has an ideal frequency response that is suitable for all genres of music and audio contents.
The consistency of the bass range is poor, but it may vary from person to person.
Sound Stage
The sound stage of 175 RF Sennheiser is impressive. When you watch movies wearing headphones, it feels like the scene is happening in front of you.
I watched 'Spider-Man: Far From Home' with it and felt like I was hanging around with Spiderman in person.
You can guess how natural the sensation was.
But, can the person next to me hear the sound from outside?
Let's know if any sound leakage happens with it.
Sound Leakage
Be careful when you listen to music or watch movies with this headphone because it leaks sound.
It has a relatively wide range of leakage between 300 Hz and 5 kHz.
It seems like the person beside you can easily hear the audio.
It can sometimes be embarrassing cause you never know what they will end up listening to!
However, you can lower the leakage by keeping the volume at a moderate level.
Does It have a Noise-Canceling Feature?
Sennheiser RS 175 headphone doesn't come with an active noise canceling feature.
It isolates passively using earcups.
They have decent isolation that starts to kick in around 150 Hz.
RF headphones use a modulating transmitter for transmitting audio. And some people think it is not easy to control without even using them.
Now I will describe the controlling system so that you can handle them without any hassle.
How to Control RS 175 Headphones?
The control buttons are on the earcups. I have discussed them one by one for your better understanding.
– Press and hold the power button for 3 seconds to switch on/off the headphone.
– Press volume(+) or (-) to adjust volume.
– To mute the headphone, press the power button.
– To unmute, press the power button/Volume(+)/Volume(-).
For activating/deactivating surround sound:
– ­Press the SURR button on the headphone/transmitter.
– The surround sound toggles between low and high.
– When the low surround mode is on, LO LED blinks green.
– And HI LED blinks green for high surround mode.
– Press the BASS button on the transmitter/headphone.
– The button blinks green when the mode is ON and stops flashing when it's OFF.
For pairing headphones to the transmitter:
Usually, the headphone and transmitters come paired from the factory.
If you cleared the pairing information from your system and want to pair them again, follow the below steps:


– Place the headphone on the transmitter for a second.
– The charge status LED will flash red.
– The headphones are paired.
For clearing the pair settings on headphones/ Reset:
– Press the volume (+) and (-) buttons simultaneously for 2 seconds. The LED will blink red rapidly.
– Press the power button while continuously holding the volume (+) and (-) buttons.
– Release all three buttons.
– The LED will blink slowly.
– The pair settings on your headphones are cleared.
The control system is easy, as you can see. You just need a little practice to remember the functions.
Build Quality & Durability
The build quality of RS 175 is decently strong. The headband is made with a thin metal frame and is moderately flexible.
The cushions are soft at the beginning but get dense after some time.
The earcups' plastic is low quality. I noticed that the joining part of the headband and ear cups are slightly locked in, making them unsteady.
I think they could have done better to improve the build quality with the price.
Though, It can resist a few accidental drops but might get damaged after a certain period.
The 24-month warranty doesn't cover physical damage caused by accidental drops.
In short, I am kinda disappointed with its build quality and durability.
Portability
The headphone and transmitter both have a bulky design. You can't even fold the headphones.
As no carrying case comes with this, it will be tough to put them into your bag.
So, you can tell that it's not a travel-friendly headphone.
Here comes the stability part.
Stability
The headband will be stable on your head if you adjust them properly. It won't move much while you are casually listening to them sitting on your couch.
But if you sway a lot, then the ear cups may slide off because of the heavyweight.
That means you can't use them while doing physical exercise or sports.
Is Sennheiser RS175 Waterproof?
No! It is not waterproof or sweatproof.
You should not expose this product to water as there is a possible risk of fire or electric shock from any moisture.
Even though such an incident is rare, prevention is better than cure.
Well, it's time to talk about the battery details as they are famous for long battery life.
Battery Details
This wireless headphone has two rechargeable batteries with up to 18 hours of battery life.
Generally, it takes 8.5 hours to charge the battery completely.
However, before using them for the first time, you should charge the battery for at least 16 hours without any interruption to improve the battery performance.
The status LED turns red, and you will hear a beep sound from the headphone when the battery is almost empty.
If you insert a non-rechargeable battery into the compartment, it may leak during charging and damage the headphone.
You can put the headphone on the charging dock while not in use. It will ensure that the headphone is charged and ready to use when needed.
Now, you may be worried about overcharging? Right?
Then let me tell you that the transmitter utilizes intelligent technology to prevent overcharging!
So, you can be relaxed even if you forget to remove the headphone from the holder.
Wireless Transmission
The Sennheiser RS175 is not Bluetooth headphones. It uses radiofrequency to deliver sound from the transmitter to your ears.
With a 2.4 GHz frequency, this headphone can transmit audio within 100m range.
Isn't it amazing?
Even through walls you can enjoy smooth audio!
But it doesn't mean you can run away from your home and go to the next house to see if it works perfectly. Keep the range in mind and stay within your limit.
Well, when we are staying inside our home, which devices can we use with these headphones?
We all want our gadgets to work with as many devices as possible.
Now, it's high time to learn about its compatibility.
Compatibility with Other Devices
RS 175 RF is compatible with every audio or video device that supports optical digital or analog audio output.
You can connect the digital audio from your system with the optical cable and the laptop and smartphone with the 3.5mm analog jack.
Did you know that you can use two RS 175 headphones with one system?
When I learned about this fact, I was shocked!
This system allows two people to listen to the same program individually with two headphones simultaneously.
I didn't know about this until my friend told me recently.
Now my brother and I both can enjoy the same movie with individual headphones.
In the next part, I will share if this headset is not suitable for gaming.
Sennheiser RS 175: For Gaming
There is no mic with these headphones. How will you communicate with your teammates?
Yes, that's why these headsets are not for professional gamers or eSports players.
Wait! Wait! There's more to know.
As the audio cables are compatible with your Xbox One and PS4, you can only play those games that don't need any voice chat.
Suitable for Studio Or Not
This headset was not designed for audio mixing and recording.
In case, you are looking for a headphone for studio use, then you can go for Sennheiser HD280Pro.
Customer Support
People have mixed experience with Sennheiser customer service.
One of my friends had a bad experience with them. When he called customer support, he stayed on hold for a long time.
He felt like he was waiting for ages to talk with someone.
They provide an email address for you to contact, but they barely answer in time.
Sometimes they behave rudely to the customers too. But it varies, and you can get a quick response sometimes.
I think you already have a massive idea about Sennheiser 175 by now. Are you confused about whether to buy it or not?
It's okay. I can clear your mind by giving you a short brief on this product.
Go through the next part, and you will be able to make your decision.
Who Should Buy This Headphone?
If you need a headphone for your home entertainment set up, then Sennheiser 175 will be a good choice for you.
The Surround sound mode will create a dramatic environment inside your house.
You can feel all the scenes of movies are happening right before you.
With the bass boost mode, you can hear every bass drop of the music.
In short, this headset is for people who love music and want to create a theatre-like environment at home.
Who Might Skip It?
People who want a portable headset to travel with should not buy these headphones.
This system needs a whole setup. So taking the transmitter and headset with you outside on a walk will look funny and awkward too.
As it has no mic, you can't make calls or record with this headset.
So, it's not suitable for zoom meetings or online teaching either.
And if you are a hardcore audiophile, you should not buy this as it won't meet the standard or need you are looking for.
Right now, I will compare Sennheiser 175 with some other similar headphones.
I think this comparative section will help you understand the differences more deeply.
Compare with Other Headphones
Go through the following part to learn the variation among them.
1. Sennheiser RS 175 vs. 185
Both models have similar features like wireless connectivity with a 100m transmission range, supports analog and digital input, can connect two headphones at a time, and has an 18 hours battery life.
While 175 is a closed-back headphone, 185 is an open-back headphone.
That's why 185 is more breathable for a long hour's use in a hot and humid place.
The cushion of 185 has a premium look with velour-covered earpads. On the other hand, the 175 earpads get dense after using them for a few weeks.
The control options are placed in the earcups for both models that let you enjoy your program without needing to get up from your couch.
2. Sennheiser RS 175 vs. 195
175 & 195 have closed-back earcups with no active noise canceling feature.
But RS 195 has a speech and music listening mode. The speech mode helps reduce the background noise and enhance speech clarity.
The music mode is for increasing the dynamic range to improve sound details.
The 175 doesn't have this two-mode, instead it has BASS and Surround sound mode.
And of course, both of them are not foldable and are not travel-friendly either.
3. Sennheiser RS 165 vs. 175
While RS 175 has a 100m transmission range, 165 can only cover the 30m range.
The RS 165 has only BASS mode and analog input. But with RS 175 you have both BASS and surround sound mode with analog and digital input options.
The sound pressure level is 106 dB for RS 165. On the other hand, RS 175 has 114 dB SPL.
So, you can see that they have many differences in terms of features.
4. Sennheiser RS 170 vs. 175
RS 170 can transmit audio up to 260 feet which is less than 175 (328ft).
It comes with a 3.5mm stereo headphone plug, and no digital optical audio input is available.
However, it has an operating time of up to 24 hours per charge. In contrast, you get only 18 hours of operating time with 175.
But the battery of 170 takes 16 hours to charge, which is longer than 175(8.5 hours).
5. Sennheiser RS 175 vs Sennheiser RS 120 II
The RS 120 II is compatible with every audio device with a 3.5mm or 6.3mm headphone socket. It comes with an RCA audio output jack.
You will not get the digital cable with it. It has a wide transmission range of up to 130 meters.
It doesn't have a battery level indicator like the RS 175.
It weighs 230g which is less than the weight of 175 (310g).
Nevertheless , both of these headphones have stereo speakers.
6. Sennheiser RS 175 vs. Sharper Image OWN ZONE Wireless Rechargeable TV Headphones
Own Zone Wireless headphone surrounds you with stereo sound. It connects to your audio source with AUX, RCA, or optical.
It's a rechargeable headphone that lasts up to 10 hours while fully charged.
The transmitter is also portable, and the headphone design is not bulky either. All the controls are placed on the headphone pad.
It has a 2.4 GHz digital transmission up to 100ft and connects to your device in seconds.
RS 175 is better than this in range (100 m) and operating hours ( 18 hours), but they are not as portable as Own Zone.
Is It Worth Buying?
Sennheiser RS 175 is worth buying if you want to set up a system in your home that ensures surround sound.
You can enjoy the audio wirelessly by lying on your bed, and no need to get up from your spot to control the system either.
As you know, it can only resist a few accidental drops, so be careful about this fact.
Yet, it depends on you if you are happy with the features or not.
If you are not satisfied with these headphones, you can opt for some alternatives that I am going to mention below.
Alternative to RS 175 Headphones
These are some excellent alternatives to 175.
These two RF headphones are almost similar with some better features.
Conclusion
After reading my Sennheiser RS 175 review, you can understand whether it will fulfill all the requirements that you are looking for or not.
 And, I hope you will be able to make the right decision in the end.